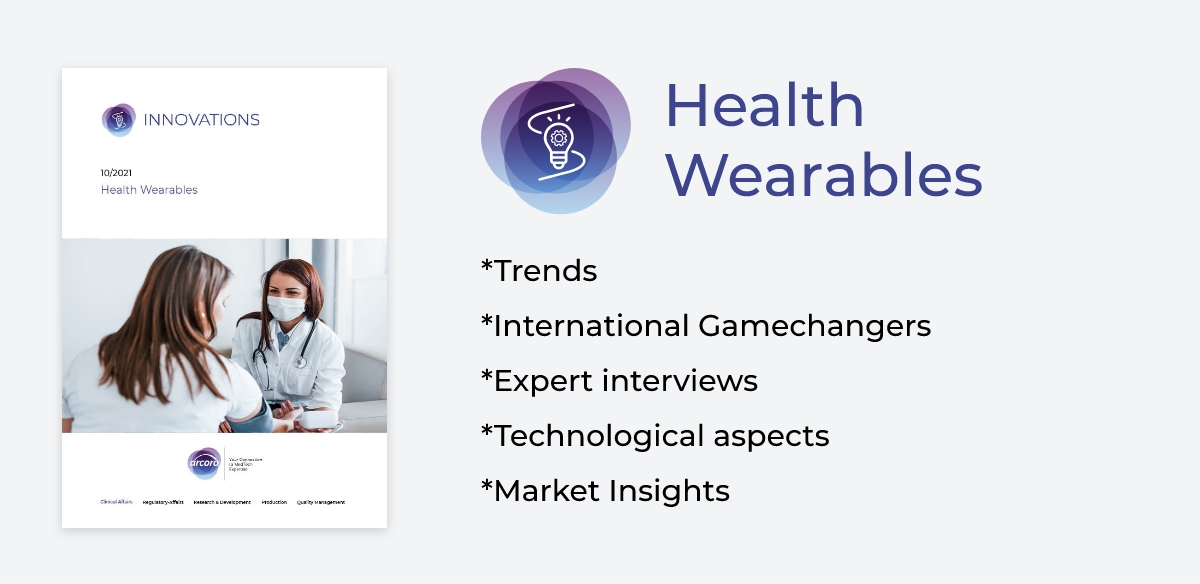 Health Wearables – history, trends and areas of application
Wearable computing devices are mobile, portable data processing systems that establish an interaction between the user and the integrated IT system. The devices, which are worn directly on or in the body, capture, store and analyze information that is available to the user directly via the device or via an associated app.
Content
Health Wearables – History, trends and areas of applicatio
1
Current key trends in the healthcare sector

Healthcare wearables for Remote Patient Control
Healthcare wearables for infection control
Healthcare wearables with integrated artificial intelligence

4
Gamechanger (national / international)
5
Interview

Dr. Johannes Kreuzer (CEO of Cosinuss GmbH) reports on in-ear sensors, the current market and the future potential in this area of innovation.

9
Deep Dive

Foil Sensor Technology
Molecular Cell Technology – Biosensors
Fluorescence Sensor Technology
Sensor integrated textiles / Neurofabric Technology

13
Challenges & Outloo
17
Survey results
18
ABOUT arcoro
23
The healthcare sector is one of many areas in which wearables are being integrated into everyday life. The so-called healthcare wearables are used in prevention, diagnostics, medication and long-term monitoring of chronic diseases or acute conditions. It serves to give users more personal responsibility and to record vital parameters in an uncomplicated and continuous manner, which serves to maintain good health in everyday life.
Let's take a little journey into the history of wearable computing. The trend, or its original form, was first initiated in 1966 by Ed Thorp and Claude Shannon, who developed a device that gave the user clues about the optimal time to play the ball in a game of roulette. The origin of the head-mounted display also dates back to 1966. The first healthcare wearables as we know them today date back to the early 21st century and have been continuously evolving in their technologies and areas of application ever since. Not only are they becoming more powerful and smaller, but they are also becoming smarter and more accurate in their data collection and processing.
In recent years, wearable devices have conquered the market at a rapid pace. In 2014, around 28.8 million devices were used globally. In 2019, there were already 346 million wearables in circulation, and by 2024, sales are expected to reach 527 million wearables. Medical personnel also see great potential in smart devices: on the one hand, healthcare costs can be reduced and medical staff can be relieved. On the other hand, patients can monitor their values themselves through permanent tracking and, if necessary, have them transmitted to medical institutions and evaluated. In this way, care and treatments could be more flexible and data-based.
The complete INNOVATION on the topic of health wearables. Simply fill out the contact form and get your copy of the arcoro INNOVATION for free.
The use of healthcare wearables is also gaining traction in the workplace. Already 35% of employers provide their employees with access to various wellness, sports and mental health programs through the use of wearables, which are intended to contribute to better health. More than 1/3 of the population owns at least one device that can capture and analyze vital data in everyday life. Although 76% of Germans pay particular attention to the data security of wearables when making a purchase, in addition to a good price-performance ratio, the willingness to share the collected data and information with their family doctor or medical institutions (63%) and health insurance companies (26%) is high.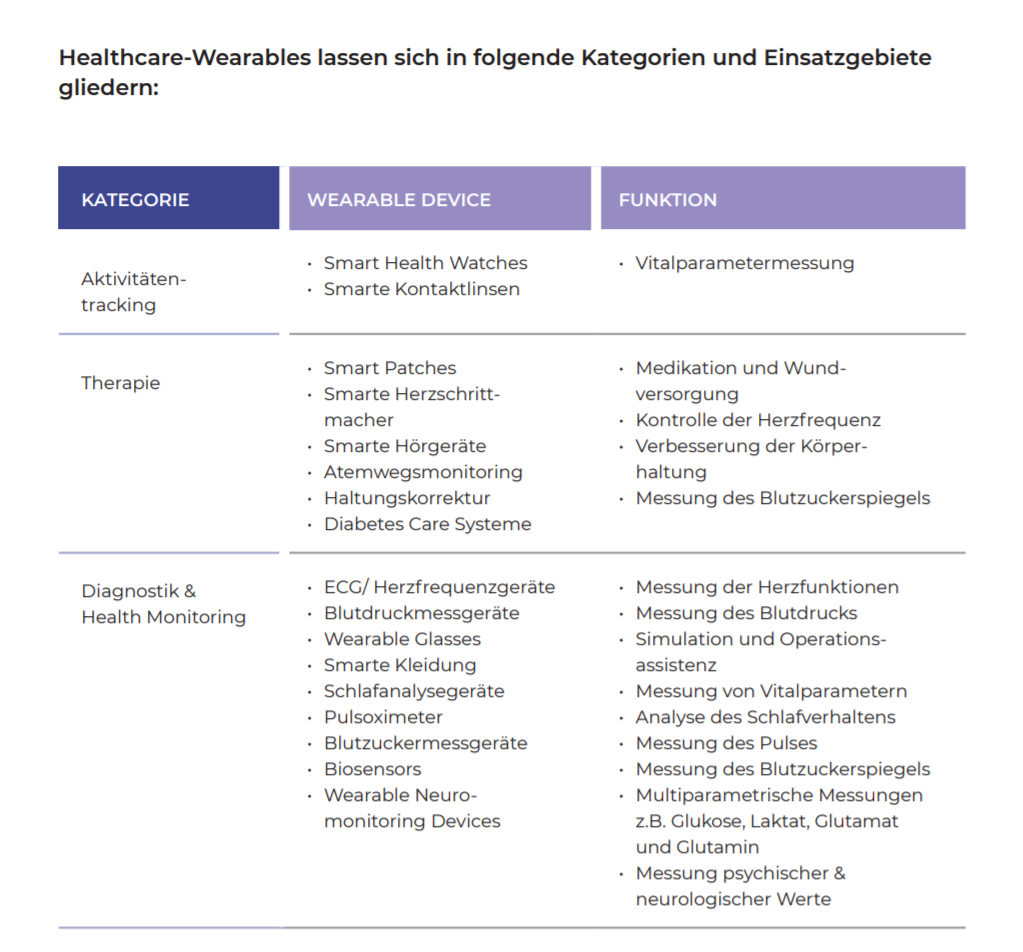 Current key trends in the healthcare sector include:
.
1) Healthcare Wearables for Remote Patient Control The use of wearables as a treatment strategy gained increased importance in the last two years. Doctors and hospitals are able to conduct medical examinations for longer periods of time without increasing the number of inpatients. Long-term therapies contribute to non-contact, sustained data collection and analysis, helping medical staff develop individualized treatment strategies tailored to patients and find out causes of abnormalities and changes more quickly. In this way, medical care can be optimized and advanced for doctors and patients. Long-term monitoring using
Health Wearables also makes it possible to quickly and easily collect a large amount of data in clinical studies and thus accelerate approval processes.
2) Healthcare Wearables for Infection Control The use of wearables in general assists in contact traceability during the pandemic. In 2020, numerous healthcare wearables and updates have been developed and implemented that measure users' body temperature by integrating thermometers, among other vital signs. This enables early detection of physical changes that may indicate Sars virus infection. By continuously collecting and analyzing vital signs, transmission chains can be interrupted at an early stage, infected individuals can be isolated, and contacts can be warned.
3) Healthcare wearables with integrated artificial intelligence The health data generated by healthcare wearables currently still require the support of medical professionals when being analyzed in order to correctly identify diseases and target optimal treatments. Due to the rapid growth in the use of healthcare wearables and the simultaneous decline in the number of medical professionals, it is often difficult to process the volume of data. Therefore, in the future, wearables should be able to recognize different patterns by means of algorithms. This is favored by increasing digitization, so that wearables can already carry out assessments and link information in part independently. The acceptance and willingness of users to use AI diagnostics through wearables is also high according to surveys, but it is no substitute for a personal visit to the doctor.
Nevertheless, artificial intelligence in combination with healthcare wearables opens up the option to change and optimize healthcare from reactive to proactive. Experts and statistics predict a continuous growth of healthcare wearables and medical apps in the future. Diagnostics and treatments will be modernized and transformed through digital consultations in the context of telemedicine. The new system offers both patients, medical professionals and other stakeholders in the healthcare sector new perspectives and methods to maintain and improve overall health.